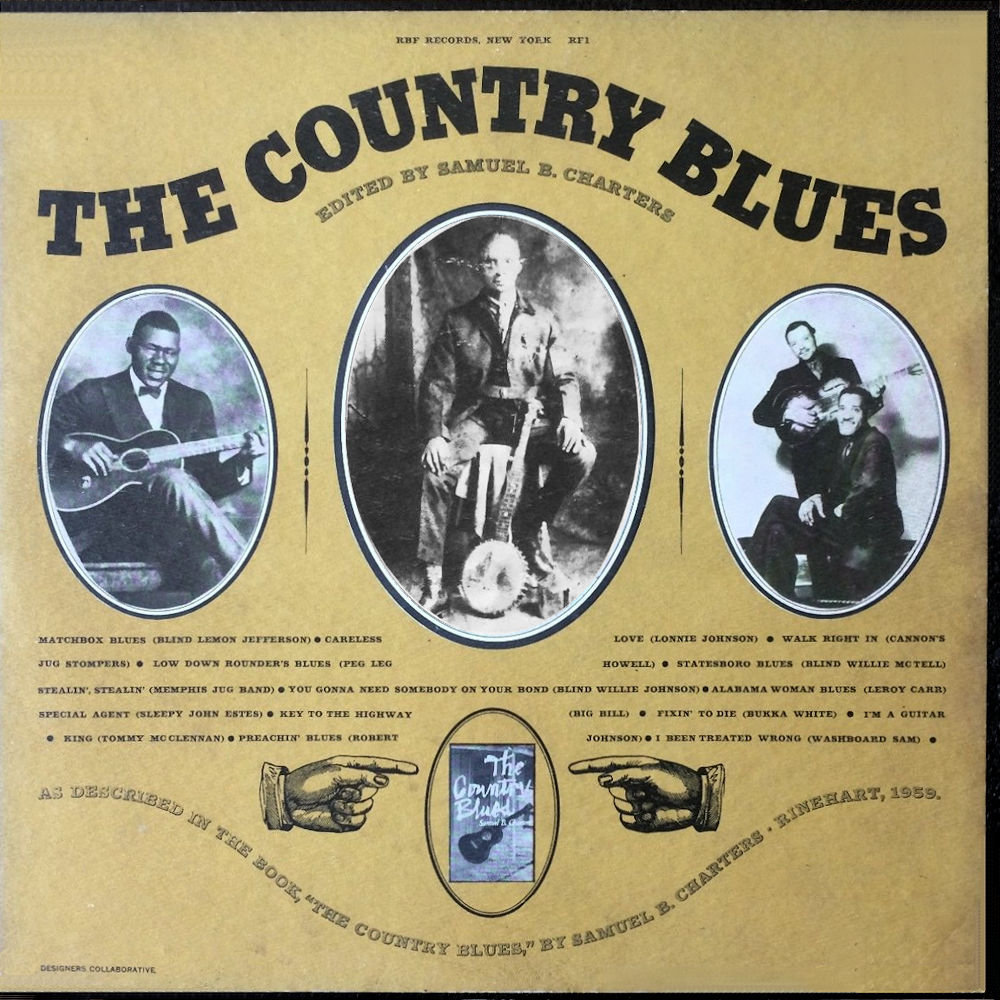 Sam Charters, the author of The Country Blues (and inventor of that term), is 80 years old today. He was born in Pittsburgh on August 1 1929. Here's a taster of the appearance he makes in my book (Hand Me My Travelin' Shoes):
"... in Memphis, Tennessee, another enthusiast, a Pittsburgh-born 30-year-old called Samuel Barclay Charters, is traveling around with his first wife, Mary Lange, and recording old blues singers a bit more systematically.
Anyone else with a keen interest in music who finds themselves in Memphis in 1956 is in the thrall of rock'n'roll. Memphis is the place to be in 1956. Here is the home of the wondrous Sun Studios, where Sam Phillips has just been producing Elvis Presley's revolutionary first records, in one small, dark room that is now also capturing on tape the early golden exuberance of Jerry Lee Lewis, Carl Perkins, Roy Orbison, and more. In the same room Phillips has also been commissioning pioneering modern electric blues records since 1951, when he had glued the little white baffle tiles up on the walls and ceiling himself to make the room a studio. Howlin Wolf had started here, right then and there. Phillips said later, 'When I heard him, I said, "This is for me. This is where the soul of man never dies."'
But that's not how Samuel B. Charters feels. He's not in Memphis for this stuff at all. He doesn't even notice it. Decades later, when I interview him, I say 'You were in Memphis in 1956?! What a wonderful time to be there!' and he replies: 'It really was, yeah. They were all there,' - and the people he means are old, pre-war blues singers, and street musicians from Memphis jug bands: the very people that everyone else in Memphis has forgotten.
These are the people he finds and records: 'Gus Cannon and Will Shade and everybody with the jug bands.' Gus Cannon and friends, under various names but mostly as Cannon's Jug Stompers, had done a slew of recordings between 1927 and 1930, and never been back in a studio since. Will Shade had led the rival outfit the Memphis Jug Band, and they had recorded prolifically between 1927 and 1934.
When Charters finds them, and records them again for the first time in over twenty years, it makes him realise something simple and powerful: 'the revelation that these people weren't from another planet, they were part of our life and some of them were still alive.'

Three years later, in 1959, Sam and Mary [nee Lange] are divorced and in March Sam marries his second wife, Ann Danberg, whom he's met in music classes at the University of California years earlier, and who will later write the first biography of Jack Kerouac and edit his letters. Sam and Ann Charters live in a basement apartment in Brooklyn, but that fall they've driven all the way across the States to stay with Ann's parents in California before embarking on a year-long trip to Europe.

That November, the New York publisher Rinehart publishes Sam Charters' book, which is called The Country Blues - and it proves to be one of those rare books that actually makes something happen out in the world. Effectively it kicks off the blues revival that becomes a shaping force within the whole burgeoning scene that encompasses the New Left, the civil rights movement, the Greenwich Village folk phenomenon, the rise of Bob Dylan and more...

On the LP that he issues alongside the book, Charters' compilation of a few of these old [country blues] records includes an elegant but restless, exhilarating track made in 1928, 'Statesboro Blues', written and recorded by Blind Willie McTell."

Remarkably, Sam Charters also produced that great 1960s psychedelic rock album Electric Music for the Mind and Body by Country Joe & the Fish.